ABOUT THE PAPERBACK EXCHANGE
NOVELS, MYSTERY, HORROR, WESTERNS, ADVENTURE, WAR, SPORTS & GAMES, BIOGRAPHY, SELF-HELP, SPIRITUAL, INSPIRATIONAL, RELIGION, TRAVEL, HUMOR, HOME-IMPROVEMENT, COOKING. OUT-OF-PRINT, AND A SMALL AUTOGRAPHED SECTION.
At the Paperback Exchange Plus, I sell used paperbacks for 50% off the publishers price. Bring in books to receive credits (credits have no cash value) and that will get you your purchased books at 75% off the publishers price.
I also sell used audio books, video's, CD's, record albums, computer and gaming system games.
I am in the process of adding a coffeeshop/reading room area to the store. If all goes well, it should be finished soon!!!
MAIL ORDER: I can ship books anywhere. Contact me for mail-order rates.
(218) 749-1716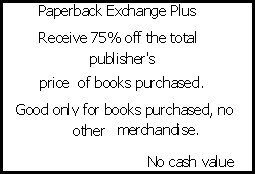 Simply mention this website and the coupon you found here to recieve this special web promotion
THE SALE SECTION
I have a selection of books that sell 5/$1, 3/$1 & 2/$1 and a selection of .10 cent books.

FREE BOOK CLUB: I keep track of every $5.00 that you spend on a puchase of books and when you reach $50.00, receive a free paperback with a publishers price of $7.99

Can not be used as a discount on books with a publishers price more than $7.99 and can not be used on other merchandise.

GIFT CERTIFICATES AVAILABLE IN ANY AMOUNT!
Hours of Operation
M
T
W
Th
F
Sa
Su
From:
Closed
10:00am
10:00am
10:00am
10:00am
10:00am
Closed
To:
Closed
5:00pm
5:00pm
5:00pm
5:00pm
3:00pm
Closed
We Serve Nationwide